When:
February 14, 2020 @ 7:00 pm – 8:30 pm
America/Chicago Timezone
2020-02-14T19:00:00-06:00
2020-02-14T20:30:00-06:00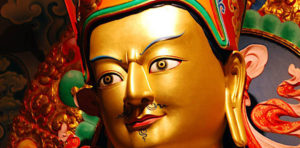 GURU RINPOCHE DAY PRACTICE
2nd Friday of each month  :  7-8:30
The 10th day of the lunar calendar is connected with Guru Rinpoche who is revered as the Second Buddha. Beginning this December we will begin to practice Guru Rinpoche meditation each month on this day. Please join us for this important and amazing practice!
Guru Rinpoche (Padmasambhava or "The Lotus Born"), was an Indian tantric master who played a major role in bringing Vajrayana Buddhism to Tibet in the eighth century. During the reign of King Trisong Detsen, Guru Rinpoche helped establish the country's first Buddhist monastery in Samye. The subject of many myths and legends, he is said to have had eight manifestations, including both the peaceful and wrathful forms.
---
The Seven-Line Prayer to Guru Rinpoche
Hum. At the northwest border of the land of Uddiyana,
In the center of a lotus rising from its stem,
You have discovered supreme, wondrous siddhis.
Renowned as the one born from a lotus,
You're surrounded by an untold host of dakinis.
I practice following your example.
Please come here to bestow your blessings upon us.