Khenchen Tsultrim Lodro will teach at Gar Drolma, Dayton, Ohio
August 12-13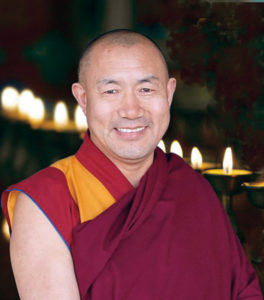 Khenchen Tsultrim Lodro is one of the most important monastic scholars currently teaching in Tibet. He is renowned for the depth of his learning and clarity of his explanations of the dharma.
Khenchen is the dharma heir of the incredible master H.H. Jigme Phuntsok Rinpoche and directs the monastic education at Larung Gar monastery in Kham Tibet. Larung Gar was founded by H.H. Jigme Phuntsok Rinpoche and is the renowned Buddhist Academy at Serthar Institute.
Regarding this special visit Garchen Rinpoche said:

Khenchen Tsultrim Lodro is a very precious master. He sustains and increases the activities of Khenpo Jigme Phuntsok, and I see him as inseparable with Manjushri. It is very important that you meet and establish a dharma connection with him. These are words from my heart.  

~ H.E. Garchen Rinpoche ~
About Gar Drolma Buddhist Center
Gar Drolma is a beautiful dharma center located in the heart of Dayton. The center was started by Ellen Marie & Naomi who have also started our Milarepa Center here in Iowa City.  Several sangha members have visited Gar Drolma in the past and really benefitted from the experience.  Another several sangha members will travel to Dayton for this special event in August. If you are interested in coming along,please let us know.  We can help with transportation and accommodations in Dayton. Email us for more information at: sangha@milarepaiowa.org or contact Gar Drolma directly.