Garchen Mila Buddhist Center – Membership
Your Support is Needed!
In order to continue offering our activities, we need to have active involvement by all those who value having a Tibetan Buddhist Center in Iowa City.  In order to meet our monthly expenses of about $950 per month, we ask that you either make regular donations, or become a member of the Center.
Membership
The intention of the membership program is to create a strong community, to foster a sense of shared responsibility for supporting the Dharma and to encourage and support one another's practice. Membership dues provide the center with a steady stream of income and will allow us to stabilize the center financially.
Membership Levels
Student & Senior Membership:                    $10 per month
Basic Membership:                                          $25 per month
Nurturing Membership:                                 $35 per month
Sustaining Membership:                                $50 per month
Enduring Membership:                                  $100 per month
Membership thru gifts of volunteer time (please contact us at sangha@milarepaiowa.org for details.)
Membership Rights
All members have voting rights.  Each year we will have a sangha meeting in  which members will have an opportunity to vote for board members.
Members are entitled to attend all weekly classes without making an additional donation.
How to Contribute
There are 3 contribution methods available:

1) Use our online donation method.
2) Put a check in our Donation Box
3) Hills Bank customers:  Direct Deposit available
 Non-profit Status
Garchen Mila Buddhist Center is a registered 501(c)3 tax-exempt organization with church staus. All donations made to our organization are tax-deductible.  
*Please note that while we are doing business as Garchen Mila Buddhist Center – we are still registered with the state of Iowa as Milarepa Buddhist Center of Iowa and your tax deductions should be noted under our registered name. 
Alternatives to Financial Contribution
No-one will be turned away as a sangha member due to the inability to make a financial contribution at the levels listed above.  If your situation requires an alternative arrangement, please contact us.  We have work-study programs available for membership as well as partial payment plans. Scholarships for classes and other events are readily available. Please contact Ellen Marie at: sangha@milarepaiowa.org or text: 937-244-1961
Gifts or Contributions of Time
Of course, we also welcome and need contributions of your time as a volunteer!  Please let us know if you would be interested in helping with any of these areas: fundraising, special events, lama visits, children's education, community service, instruction of yoga, tai chi or qigong or other energy modality.
The Milarepa Buddhist Center is registered as a non-profit religious organization with the State of Iowa. We are in the process of submitting our paperwork to become registered as a 501(c)3 tax-exempt organization.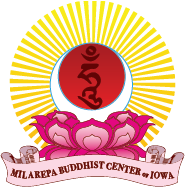 Monthly Expenses
Donation for 113 S. Johnson Street:  $500
Administrative Expenses: $200
Food and Stipend for Khenpo Thupsang:  $250
__________________________________________
Total Monthly Costs:                           $950