Dharma Luminosity 
Pervades the Bardo of Pandemia
Online Retreat Led by:  Lopon Barbara Du Bois
Friday, April 24th:  4pm-7pm & 9pm-10pm
Saturday, April 25th:  11am -2pm & 4pm-6pm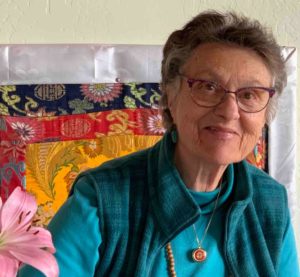 A  bardo is like an island in a lake, says Chogyam Trungpa in his commentary on the Bardo Thotrol: The Great Liberation through Hearing in the Bardo (The Tibetan Book of the Dead).
"The concept of bardo is based on the period between sanity and insanity, or ...between confusion and the confusion just about to be transformed into wisdom; and of course it could be said of the experience which stands between birth and death. The past situation has just occurred and the future situation has not yet manifested itself so there is a gap between the two. This is basically the bardo experience."
Surely we recognize here our current experience in Pandemia: the entire globe, beautiful Planet Earth and her inhabitants, caught up in the explosive, terrifying, dangerous coronavirus pandemic. No escape.
How shall we be with this?
Arising from our true need and longing, this question draws to us the brilliant light of the Dharma. Let us sit together -apart only in appearance- and call forth the wisdom of this very moment: the clarity and strength that are the essence of this great confusion and danger.
Teachings, practice, silence, communication...and communion.
---
Study Materials
---
 Submitting Questions for Barbara During Retreat
If you wish to ask Barbara a question after the Friday afternoon teaching or after the Saturday morning teaching, please email your question to questions@garchen.net by Saturday 9am or by Saturday 1pm, with the subject headed,
---
Donations
We are offering the livestream of these teachings for free.  If you would like to donate we gratefully accept and will use your donations to support the Garchen Buddhist Institute and for offerings to Lopon Barbara Du Bois.
To make a donation Click here
and select General Donation.  In the note box please indicate that you will attend this teaching with Lopon Barbara Du Bois.
BRAVE, GENEROUS, & UNDEFENDED: Heart Teachings on the 37 Bodhisattva Practices
We invite you all to join us ONLINE for this
very timely retreat during these challenging times.
---

May everyone be safe and healthy!
With love and prayers,
Garchen Buddhist Institute
The Great Liberation by Hearing in the Intermediate States
Online retreat Led by:  Khenpo Samdup Rinpoche
Saturday, April 25: noon-2 & 4-6pm  Iowa Time
Sunday, April 26: noon-2 & 4-6pm  Iowa Time
Fee: $80
To Register or for more information:
info@garchenmeditationcentre.com
Only those who register will receive link to the program.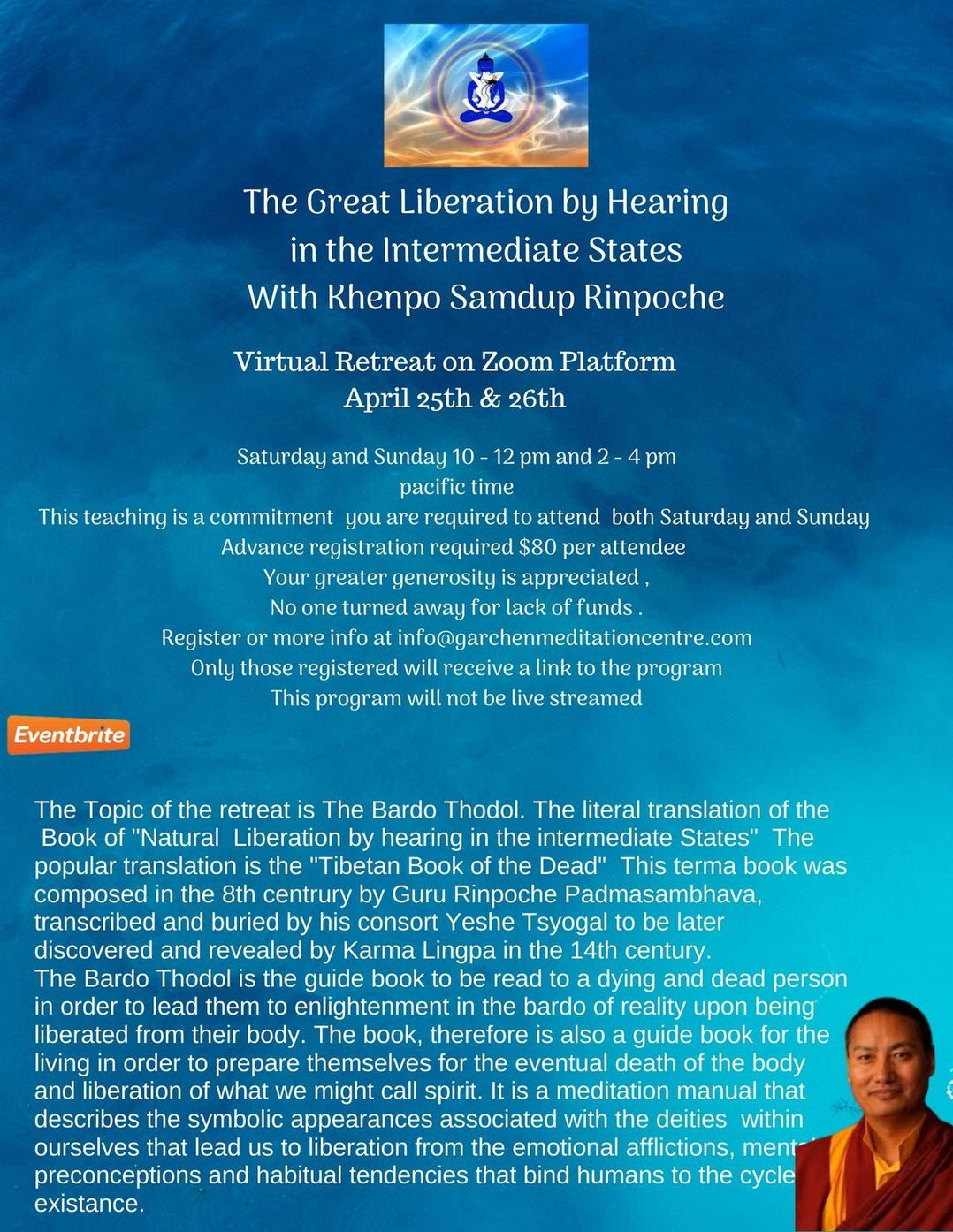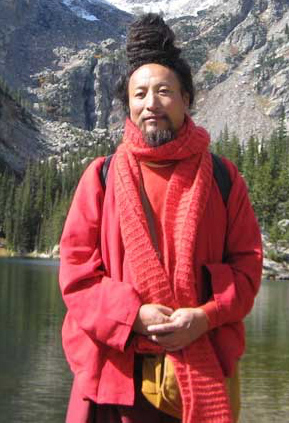 Drupon Rinchen Dorje will teach at Milarepa Buddhist Center


April 2-5, 2020
Postponed until later in spring or summer due to epidemic.
Having great altruistic motivation from early childhood, Venerable Drupon Rinchen Dorje Rinpoche entered Tana Monastery in Tibet in 1984.  Drupon Rinpoche received teachings on the Fivefold Path of Mahamudra and Kunsang Lama's Words of Profound Instruction, Dzogchen's Great Completion Parting from Samsara and Nirvana, Pointing Out the Nature of Mind, and other teachings from Tulku Nyendrak Gyaltsen Rinpoche. Rinpoche has also received Chakrasamvara according to Drilbupa, including the empowerment, scriptural transmission, and pith instructions from Tulku Thogme Rinpoche.
Venerable Drupon Rinchen Dorjee joined the Drikung Kagyu Institute in 1993, and has received instruction in philosophy, Gongchig, Theckchen Tenying, Dhagpo Thargyan, and Uttaratantra from Khenchen Konchog Gyaltsen and other profound teachers of the Lineage. In 1995 Drupon Rinpoche received full ordination vows from His Holiness Drikung Kyabgon Chetsang Rinpoche, and in the same year accomplished the ngondro practices to mahamudra and the grand mantra recitation of Chakrasamvara. In 1996, he received initiation into the Profound Path of the Six Yogas of Naropa. Drupon Rinchen Dorjee Rinpoche has completed two (2) three-year retreats, one at Almora and one at Lapchi, the holy retreat place of the great yogi, Jetsun Milarepa. He has received profound instructions too numerous to mention during these retreats.
In 2005, he received the five-deities Hevajra according to Marpa's tradition of empowerment, transmission and instructions from His Holiness the Drikung Kyabgon Chetsang Rinpoche, and in 2006 he completed the grand mantra recitation of glorious Hevajra's fire puja at the Almora retreat center.
Drupon Rinchen Dorje Rinpoche is now the retreat master for the 3 Year Retreat at the Garchen Buddhist Institute and gives teachings on Chakrasamvara and leads the Chakrasamvara Drupchen in the summer at the Institue.  His main center is Chicago Ratna Shri.
registration: will be available in March
location: Milarepa Buddhist Center, 2871 Heinz Road, Iowa City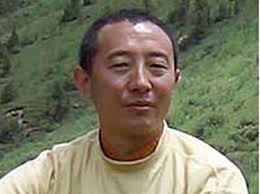 Lama Abou will visit Milarepa Buddhist Center
May 1-11, 2020
Saturday, May 9th
Shakyamuni Buddha Statue Consecration
Schedule:
Sat, May 2:
Vajrakilaya Practice

Sun, May 3: 10am-noon & 2-4pm:
Teaching on Tara Practice
Mon, Tue, Wed, Thu, Fri | May 4-8 | 10am-noon & 2-5:
Preparations for Statue Consecration – volunteers needed and welcome!
Sat, May 9
Statue Consecration
Sun, May 10
Lama Chopa Tsok
During this visit Lama Abou will help us prepare our new statue for consecration. At the end of the preparations we will have a consecration ceremony. Everyone in the sangha and community is invited to help in these preparations. 
Biography:

Abao Lama's parents lived as nomads in Tibet at a time of great political change, and they endured many hardships just to survive. Five of their ten children died due to the difficult circumstances.
Abao Lama was born in 1969 and was one of the surviving children. From the age of six until the age of eight he studied the Tibetan language and script. At the age of fourteen, he met his Root Lama, His Eminence Garchen Rinpoche, with whom he took refuge at that time. Afterward, he completed 500,000 recitations of the Fivefold Mahamudra Ngondro.
At age fifteen Abao Lama received his monastic vows and instructions on Mahamudra from the Mahasiddha Karma Norbu. At the age of eighteen he met Khenpo Munsel from Golog for the first time. After having completed the Dzogchen Ngondro he received instructions and transmission on Trekcho and Thogal.
Starting at the age of twenty-two, he served for three years at Gargon monastery, having responsibility for the offerings received by the monastery. In addition to this position, he attended to the Lamas in the monastery and practiced Tsok on a regular basis. Also during this time, he gathered accumulations of the mantras of White Tara, Yamantaka, and the root mantras of the four enlightened activities of the deities.
In 1997 Abao Lama traveled with H.E. Garchen Rinpoche to America, and he subsequently became an American citizen. Since 1997 Rinpoche has built many centers around the world, and Abao Lama has been one of Rinpoche's two attendants on his travels throughout Europe, Asia, and North America.  Abao Lama is President of Garchen Buddhist Institute.
registration: There will be no registration for most of Abou's visit. Instead we will work together to prepare our statue for consecration. 
location: Milarepa Buddhist Center, 2871 Heinz Road, Iowa City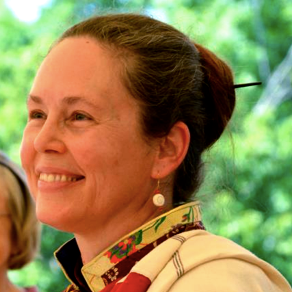 Kum Nye Yoga with Lama Khandro Kunzang
August 29 & 30, 2020
We are excited to be able to host our friend Khandro Kunzang for the first time at Milarepa Center.  
What is Kum Nye?
It is a form of Tibetan yoga that works with the subtle energy system. The Kum Nye I will be teaching comes specifically from the Kum Nye developed by Tarthang Tulku who first introduced this in the US in the 1970's. It has been developed into a beautiful system of yoga, meditation, massage and healing. I have been practicing this on and off for over 25 years. I was first introduced to this in the early 1990's, when I worked as a bodyworker, and have since incorporated many of its principles in my own teachings and practices. Many of the teachings I have offered to you over the years have inlcuded elements of Kum Nye, and the philosophy behind it has informed much of my work. Now that I will be an 'official' Kum Nye Instructor, I am excited to be able to introduce this profound system to you!
What will be be doing?
Kum Nye is a practice of mindful movement that focuses on releases blockages in the subtle energy system. That means we will be doing some movement exercises. Some are easy to do and some are more difficult. However, these exercises can be adapted to anyone's physical situation, which makes it possible for anyone to practice this. The class will include teachings on the theory and principles of Kum Nye, teaching on some of the self-massage that is incorporated into the practices, and teachings on the subtle energy body. In addition, Kum Nye includes meditation practices and chanting mantra. The goal of the class is to introduce you to this system of practice and give you enough to get your practice off the ground. After the class, you can find many resources to continue to deepen the practice. Those resources (and more information on Kum Nye) can be found on KumNyeYoga.com. 
We will be using this book: Tibetan Relaxation: Kum Nye Massage and Movement. link to Amazon: https://www.amazon.com/Tibetan-Relaxation-Massage-Movement-Healing/dp/0898003466/ref=cm_cr_arp_d_product_top?ie=UTF8
2019
May, 2019 :
In May we hosted Ina Trinley Wangmo to teach in Iowa City for the first time.  Ina has served as Garchen Rinpoche's translator for over ten years.  She taught on the Four Thoughts that Turn the Mind to Dharma. 
April, 2019:
In April we hosted Drupon Rinchen Dorje who gave us the Vajrasattva  empowerment.  In addition, Drupon offered us teachings on the Prayer of Kuntuzangpo. 
2018
March, 2018:
Visiting scholar of Tibetan Buddhism Yaroslav Komarovski, Ph.D. taught on Contemplative Techniques of Calm and Insight Across Buddhist Traditions at the ICPL.
March, 2018:
Drupon Rinchen Dorje led a 3-Day Chenrezig Retreat for Compassion.
February, 2018:
Khenpo Paljor Gyatso taught on the Fundamentals of Buddhism.

January, 2018:
Two Tibetan nuns, Yuan Hao and Yuan Fei,  who delved systematically into a thorough study of Buddhism in one of the largest Tibetan Buddhism Academy in the world will visited us and taught at the ICPL. 
2017
October, 2017: In October we moved Milarepa Buddhist Center to our present location on 1st Ave. in Iowa City.
September, 2017:
Retreat with Drupon Thinley Ningpo Rinpoche:
Compassionate Mind, Heart of Peace. Rinpoche's visit included a Green Tara Empowerment & teachings as well as an Introduction to Tibetan Buddhism and Teachings on the Nature of Mind.
May, 2017:
In May we co-hosted a One-Dharma picnic along with the Iowa City Zen Center and Iowa City Sangha (now Winding Path Sangha).
April, 2017:
In April we hosted a spring retreat with Khenpo Choephel Rinpoche. At this time Khenpo offered teachings on Nagarjuna's Letter to a Friend.  In addition, Khenpo offered an empowerment for the Ten Dharma Activities: 1. Writing Dharma texts / 2. Practicing offering to Buddha Dharma Sanghas / 3. Practicing Generosity for the Buddha's teachings / 4. Listening to Dharma teachings / 5. Reading Dharma texts such as Sutras and Tantras / 6. Taking Dharma transmissions from Masters/ 7. Giving Dharma teachings / 8. Practicing Dharma in our daily life / 9. Contemplating perfect Dharma / 10. Meditating Perfect Dharma. We practiced Shamata meditation with Khenpo as well as Chenrezig Meditation.
February, 2017:
In February we co-hosted a One-Dharma vegetarian potluck at our center.
January, 2017:
We hosted a winter retreat with Khenpo Choephel Rinpoche
which included a Medicine Buddha empowerment as well as teachings on Medicine Buddha practice, teachings on the Four Immeasurables and on the Four Seals. At the end of this retreat Khenpo instructed us in torma making and how to set up a personal shrine.
2016
October, 2016:
In October Drupon Rinchen Dorje offered
a White Tara Empowerment, White Tara Teachings and Practice and Teachings on the Life of Milarepa.
October, 2016:
Milarepa Buddhist center was established.
April, 2016:
Khenchen Konchok Gyaltshen Rinpoche on the topic Loving Kindness and Compassion: The Source of All Happiness and Joy. In addition Khenchen gave a two-day teaching on The Display of Discursive Thought & the Natural Radiance of Awareness.
2014
September, 2014:   
Khenpo Samdup was the first teacher that we hosted in Iowa City. Khenpo taught on the following topics:  Introduction to Buddhism, What is Buddha Nature?, Introduction to Calm Abiding Meditation and Individual Meditation Instruction.