You are welcome here
Garchen Mila Buddhist Center welcomes new visitors. It is an important part of our mission to be a place where newcomers can connect with the teachings of Buddhism. No matter the depth of your curiosity or interest, this is a space where you are truly welcome.
The teachings held by the Buddha and the Drikung Kagyu lineage challenge us as individuals to recognize and dissolve barriers that separate us from others. As a community of practitioners, we work to teach the understanding of and respect for the basic goodness inherent in all individuals, social groups and cultures.
---
Health safety
Unfortunately, Covid is on the rise again. We encourage everyone coming to the center to be vaccinated against Covid19. Our first priority is to protect the health of everyone who comes to the Garchen Mila Center.  Please be mindful of the following the safety protocols.  Sick Policy: Please do not come to the center if you feel at all ill –even with the sniffles. If you test positive for Covid or the flu please do not attend for at least ten days. We will be here when you feel better!  Exposure Policy:  Please do not come to the center if you have a known exposure to covid or the flu.
---
Best times to visit
These are the discussion times and meditation sessions that are designed for those who are completely new or fairly new to the Dharma.  If you are brand new to meditation, or have been exploring on your own for a little while, or have learned mindfulness meditation and want to delve deeper, or are searching for a more systematic understanding of Buddhism, or are just curious –these discussion and practice sessions will be particularly helpful. It is fine to start wherever fits your schedule and seems interesting to you.
SUNDAY MORNINGS
Basics of Buddhism Discussion & Om Ah Hung Meditation | 10:45–11:45am

FRIDAY MORNINGS
Drop-in Silent Meditation | Fridays  9:00–9:40am
---
What to expect
Right now all of our meditation and discussion session are in person.

Participants can sit on cushions on the floor or on chairs in the Shrine room. 

You may attend all or part of the session.

Kindly take off your shoes before entering the practice area.
There is no fee or registration required for weekly events.
---
What to wear
We recommend wearing comfortable attire that allows for ease in sitting cross-legged on cushions. 
---
Other good things to know
Do not step over Dharma materials (books, prayer books, etc.)

Do not put Dharma materials on the floor (books, prayer books etc.)

Do not place objects on top of Dharma materials (books, prayer books, etc)
---
Inclusion
We are an open and inclusive sangha, and do not discriminate on the basis of race, ethnicity, gender, income, sexual orientation or political orientation. We are a diverse group of people with members from many walks of life.
---
Cancellations
Occassionally the need may arise for us to cancel one of our scheduled sessions due to weather, illness etc.. Please check the website for last minute cancellations. In addition, if you sign up for our email list we are often able to send out an email as well.
---
Your support is needed
The Garchen Mila Buddhist Center upholds the ancient 2600-year-old Buddhist custom of offering teachings without cost. Staffed exclusively by volunteers, the center functions through the kindness of our members, enabling us to provide meditation sessions to the community without any fees.  For those who decide to make our center a regular part of their journey, we invite you to join us as a member and contribute to the sustenance of our programs. For those who drop by occasionally, a modest donation for the day would be greatly appreciated.
---
Location
209 E Washington St., Suite 200, Iowa City, 52240  The Dharma Center is located on the second floor of the Paul-Helen Building at 209 East Washington Street (Suite 200) in downtown Iowa City. The entrance to the building faces the Dubuque Street pedestrian mall. There is an elevator that opens directly to our doorway. The building and the center are accessible to individuals with mobility difficulties.
---
Parking
Iowa City's downtown streets have limited metered parking. Parking is also available in three ramps with entrances from Dubuque and Linn Streets (Sheraton Hotel), Clinton and Capitol Streets (Old Capitol Center), and Iowa Avenue (Clock Tower Place). You may want to download this app on your phone to park on the street (although coins are allowed): Park Mobile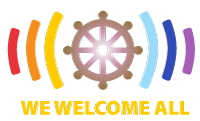 .