WEEKLY SCHEDULE – June & July 2023
All of these sessions are offered for beginners and more experienced practitioners.
Cushions and chairs are provided.
Please remove your shoes before stepping into the practice area.
No registration required for weekly events.
Silent Meditation and Discussion
Sundays 9:15–9:50am
We will have 10 minutes of silent meditation followed by discussion of the 37 Practices of a Bodhisattva.  This text gives instructions on how to follow the path of lovingkindness and compassion. We will follow the teachings in the 37 Practices of a Bodhisattva slowly – learning one stanza at a time.  No previous experience necessary – we will provide the texts. This session is led by Ellen Marie Lauricella and Naomi Bloom.
***
10 min silent meditation
Dharma discussion and greetings

Om Ah Hung Guided Meditation
Sundays 10:00–11:00am
This is a simple guided meditation that will lead you through a purification of the heart and mind. Om Ah Hung meditation uses mantra, visualization and mindfulness. No previous experience needed to attend. We offer instruction as needed to all newcomers!  This session is led by Ellen Marie Lauricella and Naomi Bloom.
***
Opening Prayers
Om Ah Hung Guided Meditation as taught by Khenchen Rinpoche
Calm Abiding Meditation
Closing Prayers
Calming Mind Discussion Group
Mondays 

7:00–8:00pm
We are learning together to relax the mind and body thru meditation, discussion, and contemplation. This spring we will continue to read the book How We Live Is How We Die by Pema Chodron as a jumping off point for discussion. It is not necessary to have read the book to participate – we read a section out loud and discuss. Joyce Janca is the facilitator for this group.
***
Silent Meditation
Discussion
Silent Meditation
These sessions will resume in the fall:
Drop-in Silent Meditation – Mondays  noon-12:40pm
Drop-in Silent Meditation – Fridays  noon-12:40pm
Healing Mind Discussion Group – Wednesdays  noon–1:00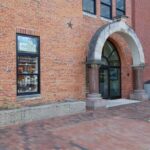 Location: 209 E Washington St., Suite 200, Iowa City, 52240  The Dharma Center is located on the second floor of the Paul-Helen Building at 209 East Washington Street (Suite 200) in downtown Iowa City. The entrance to the building faces the Dubuque Street pedestrian mall. There is an elevator that opens directly to our doorway. The building and the center are accessible to individuals with mobility difficulties.
Parking: Iowa City's downtown streets have limited metered parking. Parking is also available in three ramps with entrances from Dubuque and Linn Streets (Sheraton Hotel), Clinton and Capitol Streets (Old Capitol Center), and Iowa Avenue (Clock Tower Place). You may want to download this app on your phone to park on the street (although coins are allowed): Park Mobile
---
We need your Support!:  All meditation and discussion sessions are offered to the public on a dana (generosity) basis. Donations are greatly appreciated. Please consider becoming a member in order to support meditation and Buddhist education in Iowa City.
---
Health:  Please do not attend if you are feeling ill or know that you have been exposed to a contagious disease.
---
Weather: If weather is extreme, we may need to cancel practice. Our home page will make weather announcements if needed.