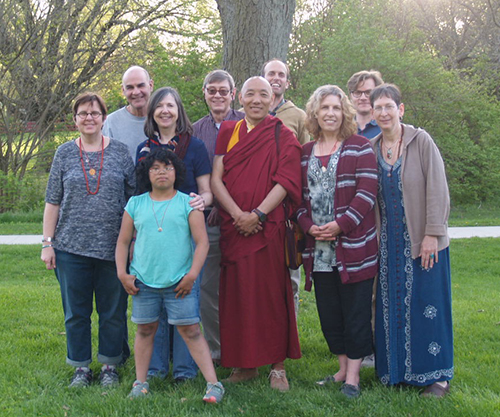 Welcome!
Milarepa Buddhist Center began in 2016.  We work at the direction of His Eminence Garchen Rinpoche, Khenchen Konchok Gyatshen Rinpoche and other esteemed lamas in the Drikung Kagyu lineage of Tibetan Buddhism.  We are form is a place for the nurturing of inner peace, understanding, kindness, and compassion. Our aim is to provide a program of meditation and wisdom studies taught by qualified lay people, lamas and other Tibetan teachers.
The Milarepa Center provides instruction in meditation and philosophy in a way that is applicable to both non-Buddhists and Buddhists alike. The Center also serves as the focal point for forming spiritual community where we support one another in our practice and benefit the larger community as well.
Join us for classes, events, and weekly meditation.
Summer Retreat
.
with
Lama Konchok Choswang
August 15-18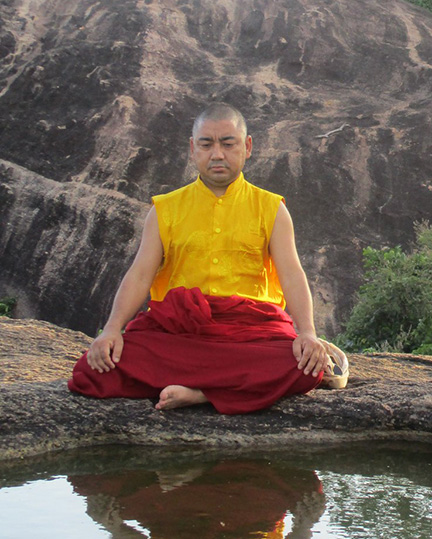 Saturday, August 17
Grandmother Achi Drolma
Meditation Practice & Smoke Offering
ABOUT: 
Mother Achi was the great grandmother of Lord Jigton Sumgon, founder of the Drikung Lineage. To this day she remains a great dharma protector of the Buddha's teachings and its practitioners.  She is recognized and practiced by all lineages of Tibetan Buddhism.

"Achi Chokyi Drolma is a very powerful dharma protector and swiftly accomplishes removing obstacles, she is the thousand Buddha's protector and a special protector of the Drikung Kagyu Tradition. As a dharma protector, she assists practioners who pray to her. At this time in our world, we need a protector that can help us remove obstacles and create conditions to decrease suffering and benefit all beings." ~Khenpo Samdup
Achi Chokyi Drolma was born to a childless couple who had travelled to Swayambhunath Stupa in Nepal for pilgrimage. At the age of three she began reciting the mantra of Tara and taught it to others. Later in life, she gave birth to four sons and two generations later, Jigten Sumgon was born into her family.
When the time came for Achi Chokyi Drolma's life to end, after teaching the precious Buddha's teachings to countless beings, she took shelter in a cave. Together with her students she partook of a great tsok (Sanskrit: ganachakra) offering. At this time her students gained both ordinary and supreme spiritual attainments. It was here that Achi Chokyi Drolma composed a sadhana or daily prayer manual with herself as the central deity and promised to look after the teachings of the Buddha, especially those that her great-grandson Jigten Sumgon would propagate. She then flew to Kechara Paradise (the pureland of Heruka Chakrasamvara and Vajravarahi) on a blue horse without leaving her physical body, reminiscent of 75 of the famous 84 great Mahasiddhas of ancient India.
more: http://www.rigdzindharma.org/achi-chokyi-drolma.html

PLACE:  Home of Ellen Marie & Naomi 15 Oak Park Place NE – Iowa City IA 52240
__________________________________________________________
TIME: 
Morning session:   10–noon  | Achi Chokyi Drolma Practice
Lunch Break:   noon-2pm  | A vegetarian lunch is included as part of this retreat.
Afternoon Session:   2–4pm  | Achi Chokyi Drolma Practice & Smoke Offering
You may join us as you are able.
__________________________________________________________
Fee:  members: $12 | non-members: $17

REGISTRATION: register online below!
Note:
This retreat will be held in a private residence. Please park on the street. 
We will be outside for some of this retreat – so please bring sunscreen, water bottles, bug repellant etc as you wish. 
Save
Sunday, August 18
ICE STUPAS & GO GREEN, GO ORGANIC

a Discussion about Buddhist Climate Change Action in Ladakh, India
---
Tibetan Buddhist Monk, Konchok Choswang, will offer a presentation on his monastery's efforts to combat prolonged drought in the Himalayan regions of India.
Choswang, along with other monks has been fighting climate change in the region  by building ice stupas and promoting reforestation thru a program called Go Green Go Organic.
On Sunday evening Choswang will tell us about the efforts of His Holiness Chetsang Rinpoche and the Drikung Kagyu monks in Ladakh to create ice mountains for the local villagers to use all summer. He will also explain how we, in Iowa City, can help support the work being done in Ladakh.
PLACE:  ENVIRONMENTAL EDUCATION CENTER | 2401 Scott Blvd.

TIME: 7-8:30
Suggested donation: $5-20
REGISTRATION: no pre-registration – donations take at the door
Save
Thursday-Sunday, August 15–18
House Blessings Available
During this visit  Ven. Choswang will offer individual house blessings.
Please contact us to schedule at: sangha@milarepaiowa.org / 937-244-1961
Suggested Donation: $35–$75 
Save
INFORMATION:
Seating: 
There will be cushions available. 
Volunteer Opportunities:  
There are volunteer opportunities still available for this visit. These include things like bringing flowers, serving tea for the lama, helping with meals for the lama and several other things. Please let us know if you are interested in volunteering:   sangha@milarepaiowa.org
About Donations:    
Making teachings available from visiting teachers involves expenses for our young community. These include transportation costs, translator fee, and publicity. Most importantly, as a community we will make an offering to the lama at the end of his visit. Your donation will make the communal offering possible.  At the same time, your donations are the beginning of building something for future generations in Iowa City –a vibrant community that is able to offer a full range of opportunities for both practice and study in Buddhism.   No one turned away due to lack of funds.
THIS WEEK AT MILAREPA CENTER:
We are able to offer classes and meditation at minimal cost due to the generosity of our members. Please consider donating on a monthly basis. In the next 9 months we have several special expenses including paying for our 501(c)3 application.  So please consider becoming part of our community!